On Friday the US dollar weakened and American stocks grew further. Durable Goods Orders fairly outstripped forecasts, rising 4% (the maximum growth since last July). Investors believe it makes Fed rate hike more likely, produces pressure against the dollar and boosts stock indices. S&P 500 recorded a new historical high. Nasdaq has risen to a maximum since mid 2000, when investors observed a bubble of dot-com companies. To be noted, at the end of the week corporations issued good quarterly reports; Amazon, Microsoft and Google shares added 14%, 10% and 3% respectively. Due to positive corporate data market participants reviewed S&P 500 companies earnings forecast. They suggest that the profits will decrease only 1.3% as compared to 2.9%, estimated in February. Overall earnings may fall 3.5% against expected 6%. The trade volume on American stocks was near the monthly average, making up 6.2 bln shares. Today at 15:45 CET Services and Composite PMI will be released by Markit. The tentative outlook is negative. Pharmaceutical companies Bristol-Meyers Squibb, Boston Scientific, Merck & Co, Pfizer, Gilead Sciences and Celgene will release quarterly earnings reports this week.
European stocks have been dropping today, following lackluster surge on Friday. As distinct from the USA, there exists in Europe a high political risk of Greece withdrawing from the European Union. Eurozone authorities postponed financial aid to the country until it agrees to economic reforms, implying harsh reduction of budget expenditure. The new Greek left-oriented government is reluctant, since the measures, proposed by the EU, will bring down living standards in the country. German finance minister Wolfgang Schäuble alluded on Saturday, that his institution prepares to probable Grexit. He compared the current situation with the plan of German reunification in 1989. No important economic statistics are expected today in eurozone. At 14:00 CET ECB vice-president Vítor Constâncio will hold a conference.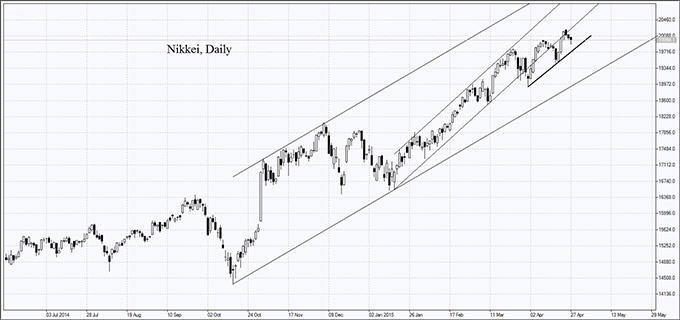 Nikkei has been falling for three constant days due to weak corporate reports and negative Mazda and Mitsubishi earnings forecast. Investors expect new companies' quarterly reports and Bank of Japan Thursday meeting. Bank of Japan officials may cut this year inflation forecast to 1% and give a hint about probable reduction of money emission volumes. Tomorrow at 01:50 CET Retail Sales will be released in Japan.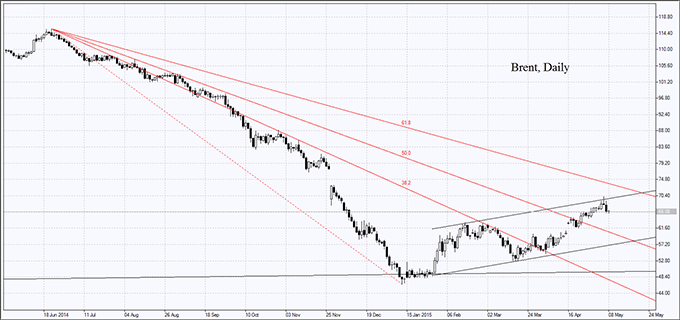 Oil quotes showed a slight increase. Oil service company Baker Hughes reported that operating oil rigs in the USA had contracted for 20 straight weeks and hit the low since 2010. Market participants assume that it may result in falling oil production. Hostilities in Yemen produce additional effect on oil market. Minister of oil in Saudi Arabia stated that oil extraction in the country answers global demand. Investors suppose that Saudi Arabia will not raise oil exports in the near future.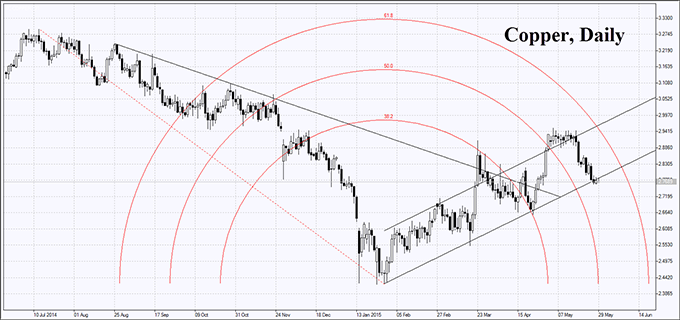 Copper rallied as International Copper Study group cut the global oversupply forecast from 595 thousand to 365 thousand tons. The following copper outlook will be published only in October.
Corn futures have been falling for 6 consequent sessions due to probable decrease in demand because of bird flue outbreaks in the USA. Soybean and wheat quotes joined the trend. Police engaged in breaking up truck drivers strike in Brazil, which has driven down soybean prices.
Source: IFC Markets